Sweet tea, sweet corn, mashed 'taters & fried chicken. That was a traditional Sunday dinner for me growing up. Nothing fancy, nothing you couldn't pronounce and nothing left over. I couldn't wait to go to Granny's house on Sunday's just to eat 'til my belly popped.
I was about 10 years old when Granny taught me the secret to her fried chicken. Again, nothing fancy – but maybe a little unique. Granny's secret fried chicken recipe used pancake flour. Aunt Jemima's pancake flour to be exact.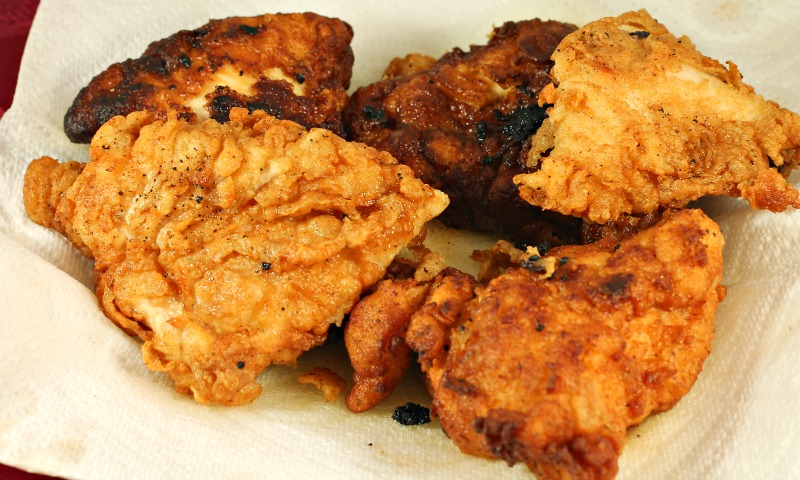 I should have guessed that since she had a humongous collection of Aunt Jemima figurines. She collected them for years and got a pretty penny when she decided to start collecting light houses instead.
Looking back it was a little strange that she always had pancake mix in the pantry. She always made her pancakes from scratch; now I know why she had it. But wait, there's more to the secret!
See, Granny didn't stop at pancake batter to make her fried chicken the best. Her other secret was in the brine. She used a salt/water/honey brine for her chicken. It always came out perfectly tender and juicy. She let the chicken sit in the brine (covered in the refrigerator)  for 3 ½ hours exactly.
Granny's Brine:
5 cups water
1/2 cup honey
3 Tablespoons salt
Simmer (don't let it boil) the mixture on medium heat until the salt has dissolved, then let it cool. Pour it over the chicken (in a plastic or glass container) and refrigerate covered for 3½ hours.
Each time I make this chicken it comes out amazing, but can't get it quite perfect. It comes close – but there's always something missing. Either the salt or the juiciness is always a little off. It may be because everyone likes their chicken cooked different here. John likes his almost burnt, Dameon wants his barely brown and I like mine right in the middle. Talk about a lot of work, haha. But the end result is totally worth it.
Granny's Secret Fried Chicken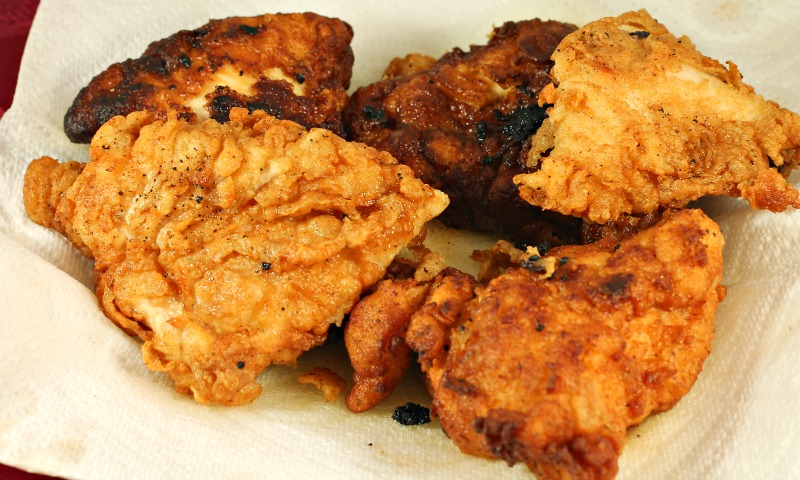 Tender and juicy fried chicken with Granny's secret twists.
Author: Amber
Recipe type: Main
Cuisine: American
Ingredients
1 chicken, cut up & brined (see above for brine directions)
2 – 3 cups of Aunt Jemima Pancake Flour
1 tbsp. salt & pepper
½ cup melted butter
1 egg, lightly beaten
½ cup milk
Directions
Mix pancake flour, salt and pepper in a large bowl.
In a separate bowl combine egg, butter & milk.
Remove the chicken from the brine and rinse. Pat dry.
Dip chicken pieces in the egg mixture and then dredge in the pancake mixture. Shake off any excess.
Fry 3 – 4 pieces of chicken for 7 – 8 minutes (or until desired color is reached) and flip. Repeat with remaining chicken.
Drain on a paper towel lined plate.